This film gets a ton of comparisons to Amelie and seems to have been dubbed "The Thai Amelie" by the movie geek community. This is what originally got me interested in checking it out but once I saw some screenshots (more on that later) I was completely sold and checked it out and
yeup
...it really is "The Thai Amelie" and I think that is a good thing.
Pod (
Mahasamut
Boonyaruk
) is a simply country boy who one day decides to go live in
Bangkok
even though his grandmother warned him that he would grow a tail if he would do such a thing. Although he
doesn't
grow a tail, he does get into one crazy
adventure
after the other all while he falls in love with
Jin
(
Saengthong
Gate-
Uthong
) who works as a cleaning lady at his new job.
Citizen Dog is a tough film to describe. It's told through a lot of different segments/chapters/stories that deal with Pod or
Jin
and their various
encounters
and adventures. When one bit falls flat you
don't
have to wait so long before the film focuses on another little story and then quickly moves on to another. All of these odd side stories involve everything from a zombie
motorcyclist
, to a
business
man who likes to lick everything, to a rain of
helmets
,to even a
mountain
made of water bottles. The film never really stops attacking you with its various subplots and
side stories
through out its short running time. Normally this would be kind of
annoying
but its all in the films nature and it adds up to why its such a charming and whimsical film.
Now let me post up some screenshots of the film in order for you to see how
unique
and colorful this film really is. When you combine the film colors and style with its eccentric story, you are bound to have one fun and happy film. It's odd,surreal, and it's silly nature can be a bit too much at times but it is still one very,very,very fun and "cute" film.
I dare you to watch this movie and not find yourself smiling through out it all.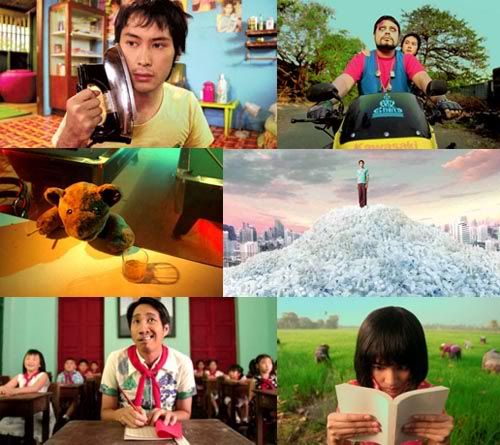 Just look at those colors.
B+